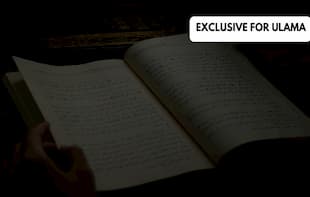 ADVANCED SPOKEN ARABIC
Enrollment in this course is by invitation only
About this course
The Advanced Spoken Arabic online course aims to help the Shari'a graduates to practice and perfect their Arabic speaking skills. Arabic speaking is an essential skill and will help learners to interact with the various native Arabs. The ability to speak the Arabic language will allow you to interact with 420 million people in few of the most politically and financially important regions of the world. This course will enable you to interact in the second-most spoken language and make a conversation in a clear, simple, and engaging manner.

Arabic is a vast language that requires time, patience and practice. Revision and continuous upgrade in the Arabic language is not only recommended, but necessary. Any student of Islamic knowledge knows that studying Arabic requires one to invest a lot of time and effort. To ease this, Al Balagh designed this part-time spoken Arabic course for Ulama and Alimat to revise and upgrade their spoken Arabic.

This advanced level course is suitable for those who have completed the Alimiyyah programme or at least 4 years of it, or have at least two years of Arabic studying experience, prior to starting with the course.

This course follows a communicative approach, is highly interactive, and will allow you to work on your functional language abilities and access all our Arabic lessons online from the comfort of your home.
What you will learn
Demonstrate refined and advanced accent and fluency in Arabic speaking.
Build confidence in maintaining the daily situational face-to-face conversations in Arabic.
Understand the modern standard Arabic conversations to an upper-intermediate to advanced level.
Master a good range of the modern Arabic vocabulary in speaking.
Exhibit fine public speaking skills on a wide range of vocabulary used in colloquial phrases.
Course Instructor
Dr. Ahmad Hammad Hamad Assanie

Head of the Arabic language department, KSA

Ustadha Fatima Mesmeh

Palestinian, Native Arabic Teacher, Cape Town, SA
Frequently asked questions
What if I am not able to attend LIVE sessions?
If, in any case, you miss attending LIVE session, you can catch up by watching the video recordings later at your convenient time. To get access to the video recordings, you should visit "myAlbalagh" by using your sign-in details. You can get access to "myAlbalagh" through your laptop, desktop or from your mobile.
When will I have access to the online course material?
Right after successful enrolment, you will get access to myAlbalagh which is our online learning portal where you can get access to the pre-course material. The course content will be released gradually after starting the course.
How to enrol in this course?
To Enrol in the course you need to visit our website course page and select Enrol Now