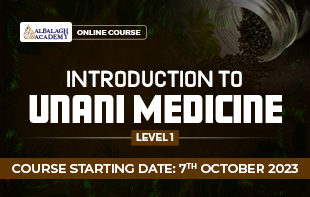 INTRODUCTION TO UNANI MEDICINE
Enrollment in this course is by invitation only
Kindly, visit our WEBSITE for paying in instalment
About this course
The Unani Medicine has a status of global medicine travelled across the civilizations, cultures, geographies and regions. Unani medicine having its roots in Egyptian and Mesopotamian traditions (3000 BC) was founded on its philosophical principles by the ancient Greek (500 BC). It was developed and flourished mainly in the Islamic Civilization by the Arabs, Europeans (Spain), Central Asians, Persians and lastly in the Indian subcontinent.
What you will learn
Have a better understanding of the tradition of Unani medicine.
Be acquainted with the fundamentals of Unani medicine and its usage in practical life.
Understand human nature through the study of the four temperaments.
Be equipped with the knowledge of an alternative medicine that is commonly used in Muslim communities.
Be educated about health and disease from Unani medical perspective.
Learn the similarities and differences between Unani Medicine and the other medical approaches.
Course Instructor
Dr Rafaqat Rashid

Professor Syed Shakir Jamil

Dr Iftekhar Ahmad Saifi
Frequently asked questions
How is this online course structured?
Our online course comprises of pre- recorded videos, online course material that include, presentations, reading material & online learning activities. The learners can ask questions and get their doubts cleared if any. You can get support from our dedicated academic support team during live sessions and even after it, as needed.
How long will I have access to the online course?
You will have access to the online course content for up to 2 years. If you want lifetime access, contact our admin team via Email at admin@albalaghacademy.com.
How to enrol in this course?
To Enrol in the course you need to visit our website course page and select Enrol Now