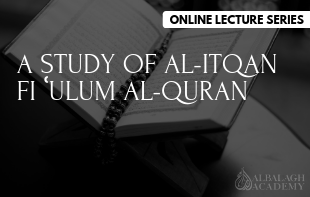 A STUDY OF AL-ITQAN FI ʿULUM Al-QURAN
Enrollment in this course is by invitation only
About this course
A special advanced course designed for ulamā and advanced students who wish to learn advanced studies of Ulūm al Qur'ān. The course will cover al-Itqān of the great Imām al-Suyūṭī.Jalāl al-Dīn Abū al-Faḍl ʿAbd al-Raḥmān ibn Abī Bakr al-Suyūṭī (born 1445, Cairo,Egypt—died October 17, 1505, Cairo) authored most of his nearly six hundred books and treatises after 40yrs age.
Al-Itqān is a classical book on the sciences of the Qur'ān which is both recognised by many scholars as both comprehensive and full of knowledge, regroups practically all the sciences of the Qurān in a remarkable order and style, and with a unique style, addressing some of the main challenging and interesting topics important today with their arguments and response. It encompasses a massive 80 chapters full of the most important discussions related to the topic.
Al-Itqan elaborates upon all the aspects of reading, writing and understanding the Holy Qur'an. Detailed exposition of Huruf, Kalimat, Nuzul, Awqaf, Arbab, the places of Nuzul (Revelation) Kitabat, Ijaz, I`rab, Tajwid, Nasikh and Mansukh has been discussed in the book. It is a compendium of the disciplines derived from the Holy Qur'an and the principles that help understand the Qur'anic laws.The science of Tafsir (commentary) and the grades of Mufassirin (commentators) have been elaborated. Al-Itqan, not only covers all those studies which have been considered separately by other scholars but also excels all other works of the time.
What you will learn
Developed a distinct understanding of the historical and conceptual significance of the Qur'an.
Examine the compilation and preservation of the Qur'an.
Define and analyse key concepts discussed in sciences of the Qur'an and exegetical approaches.
Compare and evaluate opinions held by scholars on Qur'anic sciences and exegetical approaches.
Demonstrate an ability to identify and explain exegetical methods and approaches, and examine opinions held by scholars on Qur'anic sciences, their differences and proofs
Course Instructor
Dr.Rafaqat Rashid

Mufti Abdur Raheem Ibn Dawood Limbada
Shaykh Mohammed Amin Kholwadia/h4>

Shaykh Haroon Sidat
Frequently asked questions
What if I am not able to attend LIVE sessions?
If, in any case, you miss attending LIVE session, you can catch up by watching the video recordings later at your convenient time. To get access to the video recordings, you should visit "myAlbalagh" by using your sign-in details. You can get access to "myAlbalagh" through your laptop, desktop or from your mobile.
What do you mean by 1-to-1 Mentor Support?
We understand you may need personalised support from the mentor. Therefore, we are facilitating one-to-one mentor support to ensure your personal and professional growth. Your personal mentor will be helping you through out the course with understanding more about anything related to the course. You may contact him by Email, Whatsapp or book an appointment and meet him online