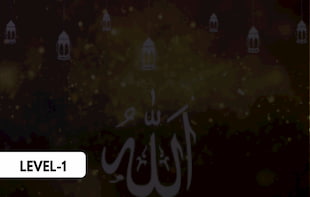 TAZKIYAH LEVEL-1
Enrollment in this course is by invitation only
About this course
How engrossed are you with mundane and trivial things of this world and do these things affect your emotional wellbeing? Do you struggle to refrain from sins, and have little motivation to worship Allah swt? Is your heart free and pure from spiritual illnesses? When you do worship Allah swt, are you are distracted and do you deprived of the pleasure of connecting with the Creator. There are several reasons why this may be. Our success in this world and hereafter fundamentally revolves around the state of our spiritual heart and soul and how far we are in this journey to salvation.

Allah swt says: "Indeed the successful one is one who purifies his / her soul, and doomed is the one who corrupts it." [Q. 91:9-10].

A heart which is consumed with the rays of knowledge from Allah swt and shines with wholesome attributes of righteousness, can only be that which is pure from worldly passions and its snares. A clean and pure heart is one which is free from spiritual illnesses. When the heart is blemished with such ailments it cannot absorb the essence and treasures of this knowledge and its associated attributes of the unseen, and so, remains deprived from performing good and righteous actions that are rewarded. Good character and good deeds are manifestations of a purified heart and it is obligatory that all aim to achieve this state through gaining beneficial knowledge, and by being guided by those who have spent time striving spiritually to cleanse their heart. Otherwise, knowledge will be a mere exercise to no end and of little benefit, like a valuable tool one has in their possession that is deprived of the fortune and craftmanship required to build and develop a golden path leading to the Creator.

This course has been designed to provide a step by step approach to purify hearts. Many authentic resources have been used by our scholars to frame an extremely beneficial and unique course with a strategic focus to personalise your spiritual journey of self-rectification tailored to your needs as a Seeker of Spiritual Development. The course will be run from graded basics to more advanced spiritual development exercises that benefit the spiritual state of students.

This is a unique opportunity to join our multi-faceted approach to develop you spiritually through enrichment exercises coupled with personalised mentor specific guidance. Our first approach will be to instil spiritual awareness and develop a God conscious mindset through lectures, reading materials and interaction and engagement with instructors, and this will be coupled with modules to transform your character, motives and actions through spiritual exercises, related to all the diseases of the heart.

Seekers of spiritual development will be able to listen and watch goal focussed videos, join live sessions with spiritual instructors and attempt online activities, questionnaires which are aimed to transform both your internal and external self.

The purpose is to connect you with Allah swt so that the knowledge you gain is one which is pleasing to our Lord. The insight (basirah) you will gain from the knowledge, coupled with a heart which is undergoing a process of revival and purification will open up the treasures of this mysterious world and bridge a longing for an afterlife which far surpasses anything sensed or perceived in this world.
What you will learn
Have a good understanding of knowledge of the internal aspects of good character and pure hearts.
Gain the ability to self-reflect on one's spiritual state and identify areas of concern.
Gain insight to modes of spiritual therapies as forms of healing and removing impurities of the heart.
Appreciate and utilize the pure and sound heart to guide towards good knowledge, good character and good deeds.
Course Instructor
Shaykh Dr. Rafāqat Rashid

Academic Director, Al Balagh Academy, UK

Shaykh Mufti Saiful Islam

Founder of Jamiah Khatamun Nabiyeen Institute, Bradford, UK

Shaykh Haroon Sidat

Research Associate, Cardiff University, UK
Frequently asked questions
What if I am not able to attend LIVE sessions?
If, in any case, you miss attending LIVE session, you can catch up by watching the video recordings later at your convenient time. To get access to the video recordings, you should visit "myAlbalagh" by using your sign-in details. You can get access to "myAlbalagh" through your laptop, desktop or from your mobile.
When will I have access to the online course material?
Right after successful enrolment, you will get access to myAlbalagh which is our online learning portal where you can get access to the pre-course material. The course content will be released gradually after starting the course.
How to enrol in this course?
To Enrol in the course you need to visit our website course page and select Enrol Now