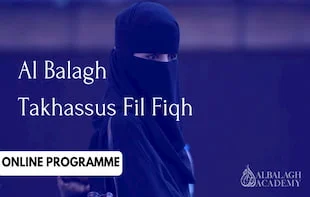 AL TAKHASSUS FIL FIQH WAL IFTA
Enrollment in this course is by invitation only
About this Programme
Islamic Fiqh is an essential discipline of traditional Islamic sciences. Requiring an analysis of normative positions in a diverse range of important new emerging issues from a truly global perspective in a rapidly changing world. This is proving quite challenging and crossing the lines of enquiry which question concepts we have never explored before or ever thought possible. The gradual change of social and political circumstances, new discoveries and the scientific, technological and digital revolution over the last decades has produced unprecedented challenges requiring the Islamic fiqh viewpoint of those modern and contemporary issues. The range of queries generically are diverse and vary between worship, medicine, dietary laws, family law to name but a few. This requires knowledge and awareness of both classical and contemporary fiqh, a specific set of skills in responding to legal queries and expertise in this discipline.

Muslim scholars attempted to address many areas of Islamic Fiqh and its application on the contemporary cases and the other areas of humanities and social sciences. Dealing with these challenges requires preparing the expert Muftīs and Muslim scholars who have the background knowledge and the skillset to work closely with academics and subject experts, allowing them to embrace both good leadership qualities and aptitude to deliver the Islamic response through a multidisciplinary approach.

However, this area of expertise has grown both horizontally and vertically to the degree that our current application of Fiqh to the contemporary challenging issues is, unfortunately, still in its early stages. The horizontal growth requires us to go back to the sources of our substantive law, jurisprudence and ethics and remove the differences and essential shariʿ principles that provide the guidance and framework to provide Islamic responses for technical questions. Thereby, Muslim scholars need to acquire some expertise in broader areas of theology, ʿilm al-kalām, tafsīr, ḥadīth and tārīkh. The new sciences have now diversified beyond just medicine, and into many other specialities, making it intersect with sciences such as politics, law, business transactions, financial contracts, medical science, philosophy of science, epistemology, metaphysics, anthropology, global public health and other areas of humanities and social sciences.
What you will learn
Gain an In-depth understanding of both relevant Classical and Contemporary Islamic Texts
Develop Research Skills and a Grasp of Related Subjects
Attain Good Leadership Skills
Achieve Recognition in the Global Network of Subject Experts in the Field of Fiqh
Develop a Portfolio of work that Contributes to the Future of Global Islamic Fiqh
Course Instructor
Shaykh Mustaqeem Shah

Shaykh Ibrahim ibn Muhammad

Mufti Muhammad ibn Adam al-Kawthari
Frequently asked questions
What if I am not able to attend LIVE sessions?
If, in any case, you miss attending LIVE session, you can catch up by watching the video recordings later at your convenient time. To get access to the video recordings, you should visit "myAlbalagh" by using your sign-in details. You can get access to "myAlbalagh" through your laptop, desktop or from your mobile.
When will I have access to the online course material?
Right after successful enrolment, you will get access to myAlbalagh which is our online learning portal where you can get access to the pre-course material. The course content will be released gradually after starting the course.
How to enrol in this Programme
To Enrol in this Programme you need to visit our website course page and select Enrol Now