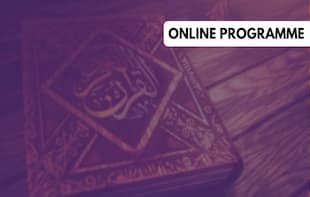 AL BALAGH TAKHASSUS FI'L-TAFSIR
Enrollment in this course is by invitation only
About this course
Al Balāgh Takhaṣṣuṣ Fi'l-Tafsīr is a unique course, exclusively tailored for Sharīʿa scholars, ʿUlamā and advanced students of knowledge who wish to seek an opportunity to learn and acquire the essence of Qurānic Tafsīr in order to effectively spread the message of the Qurān in serving the Ummah and to ultimately save the Ummah from the challenges of contemporary socio-juridical, political and contextual issues prevalent amongst Muslim communities. This comprehensively engaging course will provide and upskill learners with tools and practical knowledge needed to bring about praiseworthy change and guide the Ummah for generations to come.

Students who successfully complete Level 1 course will be eligible for admission in Level 2, based on their performance in Level 1. Each level of this three-tiered programme will get you a step closer to becoming a Mufassir.
What you will learn
Learn and become more adept at all facets of the Classical Quranic Literature with due diligence on understanding and analysing Quranic Translations in English and various other languages.
Produce a new generation of academically qualified scholars in the field of Quranic Studies, Quranic Exegesis, Ulûm ul Quran, the Sciences of the Quran, who will be leading academic expert Scholars specialised in this area to convey the message of the glorious Quran to the Muslim Ummah effectively.
Enable learners to respond, analyse and resolve challenges in relation to Qur'anic studies such as Orientalism, Scientism and various other contemporary challenges.
Enable learners to acquire skills, knowledge required to work towards implementing and spreading true Quranic practices which reflect the beauty of the real values and spirit of the Quranic principles and thus create a major impact on Muslim communities.
Frequently asked questions
What if I am not able to attend LIVE sessions?
If, in any case, you miss attending LIVE session, you can catch up by watching the video recordings later at your convenient time. To get access to the video recordings, you should visit "myAlbalagh" by using your sign-in details. You can get access to "myAlbalagh" through your laptop, desktop or from your mobile.
When will I have access to the online course material?
Right after successful enrolment, you will get access to myAlbalagh which is our online learning portal where you can get access to the pre-course material. The course content will be released gradually after starting the course.
How to enrol in this course?
To Enrol in the course you need to visit our website course page and select Enrol Now