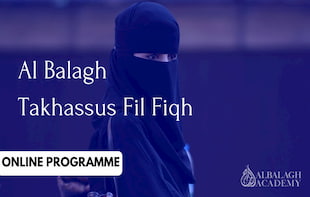 TAKHASSUS FIL FIQH
Enrollment in this course is by invitation only
About this Programme
Islamic Fiqh is an essential discipline of traditional Islamic sciences. Requiring an analysis of normative positions in a diverse range of important new emerging issues from a truly global perspective in a rapidly changing world. This is proving quite challenging and crossing the lines of enquiry which question concepts we have never explored before or ever thought possible. The gradual change of social and political circumstances, new discoveries and the scientific, technological and digital revolution over the last decades has produced unprecedented challenges requiring the Islamic fiqh viewpoint of those modern and contemporary issues. The range of queries generically are diverse and vary between worship, medicine, dietary laws, family law to name but a few. This requires knowledge and awareness of both classical and contemporary fiqh, a specific set of skills in responding to legal queries and expertise in this discipline.
What you will learn
Study of Classical and Contemporary Islamic Literature-.
Development of Research Skills and Study of Related Subjects
Development of Leadership Skill
Frequently asked questions
What if I am not able to attend LIVE sessions?
If, in any case, you miss attending LIVE session, you can catch up by watching the video recordings later at your convenient time. To get access to the video recordings, you should visit "myAlbalagh" by using your sign-in details. You can get access to "myAlbalagh" through your laptop, desktop or from your mobile.
When will I have access to the online course material?
Right after successful enrolment, you will get access to myAlbalagh which is our online learning portal where you can get access to the pre-course material. The course content will be released gradually after starting the course.
How to enrol in this Programme
To Enrol in this Programme you need to visit our website course page and select Enrol Now