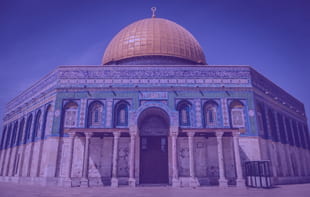 SALAHUDDIN AYYUBI: THE CONQUEROR OF JERUSALEM
Enrollment in this course is by invitation only
About this course
Al Balagh is offering an extraordinary course on the Iconic Muslim ruler, commander of Islam, Salahuddin Ayyubi رَحِمَهُ ٱللَّٰهُ. This course will explore the life, characteristics and contributions of Sultan Salahuddin Ayyubi and the Muslim community under his rule in detail. It will examine the key political events in chronological order, administration and the social structure under the Ayyubid dynasty.

This course will examine the beginning of Crusades, its causes and Muslims' response to the challenges brought by it. It will cover the noble characteristics of Salahuddin رَحِمَهُ ٱللَّٰهُ, establishment of Ayyubid dynasty, Beliefs ('Aqeedah) of the Ayyubid State, The Ayyubid State System (Administration, Social Structure, Military, Education, Economic Reforms, Expenditure), Salahuddin al-Ayubi's رَحِمَهُ ٱللَّٰهُ Efforts to Unite the Muslims and his death.

Students will learn about the events of the battle of Hattin, conquest of Jerusalem, restoration of Jerusalem in detail with the subject expert, Ustadh Ovamir Anjum. We will briefly analyse the relationship between Ayyubids and Abbasids, third Crusade and role of the Ulama al-deen in Salahuddin' s رَحِمَهُ ٱللَّٰهُ conquests.

This course is suitable for everyone interested in learning the life of Salahuddin Ayyubi and the Golden History of Islam under his reign.
What you will learn
Learn about the life and characteristics of Salahuddin Ayyubi.
Examine the establishment of the Ayyubid dynasty.
Analyse the development of various departments under Sultan Salahuddin.
Learn about his efforts in uniting the Muslim ummah.
The global political position of the Islamic state in the world under Ayyubids.
Course Instructor
Dr. Uthman Lateef
Frequently asked questions
What if I am not able to attend LIVE sessions?
If, in any case, you miss attending LIVE session, you can catch up by watching the video recordings later at your convenient time. To get access to the video recordings, you should visit "myAlbalagh" by using your sign-in details. You can get access to "myAlbalagh" through your laptop, desktop or from your mobile.
When will I have access to the online course material?
Right after successful enrolment, you will get access to myAlbalagh which is our online learning portal where you can get access to the pre-course material. The course content will be released gradually after starting the course.
How to enrol in this course?
To Enrol in the course you need to visit our website course page and select Enrol Now