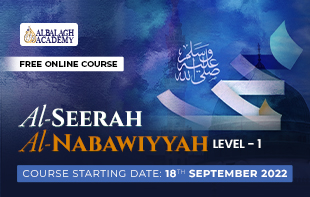 AL-SEERAT AL-NABAWIYYAH
Enrollment in this course is by invitation only
About this course
A unique online course, designed by Al Balagh for every Muslim who desire to increase their love for the beloved Prophet Muhammad (PBUH), gain a better understanding of the Prophetic life and explore the approaches in reviving the spirit of Islam through studying the Prophetic journey in-depth.
What you will learn
Appreciate the life of Prophet Mohammad (PBUH), understand the true purpose of his life and the message he brought for mankind.
Acknowledge the importance of Seerah in understanding and implementing the Qur'an and Sunnah in your life.
Understand the nobility of Prophet Mohammad's (PBUH) character- as a person, a Messenger, a guide and a role model.
Develop love for the Messenger of Allah (PBUH), learn ways to follow him and thus bring yourself much closer to Allah (سُبْحَانَهُ وَ تَعَالَى).
Learn and acquire the skills in achieving tarbiyya (character development) and da'wah (spreading Islam) from the teachings of the Messenger of Allah (PBUH).
Frequently asked questions
What if I am not able to attend LIVE sessions?
If, in any case, you miss attending LIVE session, you can catch up by watching the video recordings later at your convenient time. To get access to the video recordings, you should visit "myAlbalagh" by using your sign-in details. You can get access to "myAlbalagh" through your laptop, desktop or from your mobile.
When will I have access to the online course material?
Right after successful enrolment, you will get access to myAlbalagh which is our online learning portal where you can get access to the pre-course material. The course content will be released gradually after starting the course.
How to enrol in this course?
To Enrol in the course you need to visit our website course page and select Enrol Now