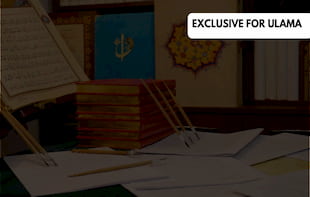 DAURAT-AL-TAFASIR
Enrollment in this course is by invitation only
About this course
To gain mastery in the study of tafsir requires one to have a good understanding of the breadth of all the different approaches, styles of tafāsir that our Islamic tradition of Qur'ānic exegesis has to offer. This is a rare opportunity to register for this unique advanced course designed for ʿUlamā and advanced students who wish to master a deep understanding of the different types of tafāsīr and gain a good grasp of advanced studies in exegesis. The course will cover a mammoth twenty-five books of tafāsīr. Each kitab of tafṣir is explicitly and carefully chosen to develop the student in the various approaches of the mufassirīn and their styles and topics.
This course takes an innovative approach in teaching classical and contemporary Tafasir of Qur'an verse by verse, chapter by chapter, and juz' by juz'. This new content-based course aims to bolster study for advanced students in understanding the Qur'anic exegesis through examining the various books of Tafasir in Arabic by very different writers.
Students will not just be able to appreciate the great wealth of diverse writings on tafsīr, but they will be accustomed to some of the essential kutub in tafsīr that have had an impact on science.
What you will learn
Develop a distinct understanding of the chronology of some of the most influential books of Quranic exegesis.
Examine and Analyse several books on the Exegesis of the Qur'an.
Define and analyse key concepts discussed in the sciences of the Qur'an and exegetical approaches through study of a diverse range of tafsīr.
Compare and evaluate opinions held by scholars on Qur'anic sciences and exegetical approaches.
Demonstrate an ability to identify and explain exegetical methods and approaches, and examine opinions held by scholars on Qur'anic sciences, their differences, proofs and value.
Course Instructor
Dr Rafaqat Rashid

(Academic Director, Albalagh Academy)

Shaykh Abdul Raheem Limbada

(Senior Islamic Lecturer)

Shaykh Mustaqeem

(Lecturer of Hadīth, Tafseer, Islamic Jurisprudence, Abu Bakr Trust Walsall)
Frequently asked questions
What if I am not able to attend LIVE sessions?
If, in any case, you miss attending LIVE session, you can catch up by watching the video recordings later at your convenient time. To get access to the video recordings, you should visit "myAlbalagh" by using your sign-in details. You can get access to "myAlbalagh" through your laptop, desktop or from your mobile.
When will I have access to the online course material?
Right after successful enrolment, you will get access to myAlbalagh which is our online learning portal where you can get access to the pre-course material. The course content will be released gradually after starting the course.
How to enrol in this course?
To Enrol in the course you need to visit our website course page and select Enrol Now