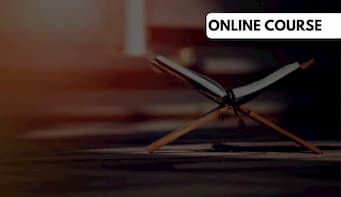 QUR'ANIC SCIENCES (ULÛM AL-QUR'AN)
Kindly, visit our WEBSITE for paying in instalment
About this course
The course is a gateway to understanding the unparalleled nobility of the Quran with a detailed exploration of the Quranic Sciences (Ulûm Al-Quran) and the Science of Exegesis (Tafsir), with a true focus on the revelation of the Quran, its compilation, style, translation and other varied but connected Qur'anic concepts.
What you will learn
Develop a distinct understanding of the historical and conceptual significance of the glorious Qur'an.
Examine the compilation and preservation of the Qur'an.
Define and analyse key concepts discussed in the sciences of the Qur'an and the science of exegesis (Tafsir).
Compare and evaluate opinions held by scholars on Qur'anic sciences and exegetical approaches.
Demonstrate an ability to identify and explain exegetical methods and approaches, and examine opinions held by Mufassireen (exegetes)
Course Instructor
Ustadh Safaruk Chowdhury

Shaykh Dr. Rafaqat Rashid

Mufti Abdur Raheem Ibn Dawood Limbada
Frequently asked questions
What if I am not able to attend LIVE sessions?
If, in any case, you miss attending LIVE session, you can catch up by watching the video recordings later at your convenient time. To get access to the video recordings, you should visit "myAlbalagh" by using your sign-in details. You can get access to "myAlbalagh" through your laptop, desktop or from your mobile.
When will I have access to the online course material?
Right after successful enrolment, you will get access to myAlbalagh which is our online learning portal where you can get access to the pre-course material. The course content will be released gradually after starting the course.
How to enrol in this course?
To Enrol in the course you need to visit our website course page and select Enrol Now