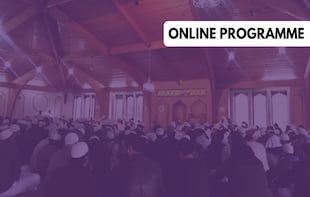 PRESENTATION & MEDIA SKILLS TRAINING
Enrollment in this course is by invitation only
About this course
Over the past few years, the world has changed how it views Muslims. Most Western people have a negative understanding of Islam and Muslims as presented by the mainstream media. As Muslims, we know that these atrocities caused by a handful of Muslims have no place in Islam, and however, a large proportion of the world's population thinks otherwise.

The Muslim leadership has been more reactionary than being proactive until now. There is now an urgent need to harmonise the relationship between Muslim and Non-Muslim communities and engage with the Muslim Youth more effectively.

We need influential Muslim leaders who not only have knowledge of Islam but have knowledge training and skills to be effective in taking an active part in society. This skills development course for Ulama is to help build capacity for Muslim leaders and Ulama in particular.

This course will explore various schools of thought and Islamic movements in Europe and beyond, the causes of the radicalisation of the Muslim youth and possible solutions, how to engage positively with the media and give TV and radio interviews effectively, and how to deliver a Khutba on the contemporary trends of society.

The Ulama Skills course will enable qualified Shariah scholars to develop the required skills and use the necessary tools to provide adequate service in the community.
What you will learn
To help build capacity for Muslim Leaders, Imams and Ulama.
To help enable the delegates to utilise their Ulama training more positively, appropriately, and effectively.
To provide them with the skills and tools to engage with the Youth more effectively.
To develop skills in effective communication and improve presentation skills.
To acquire Prophetic Leadership skills with good examples.
To share knowledge and experience with others on the course.
To learn the skills to present Islam to non-Muslims in your local community.
Course Instructor
Ustadh Kaushar Tai

(Management and Training Consultant at Aksaa Ltd,UK)

Ustadh Shakir Ahmed

(RTS & BAFTA Award Winner, specialist producer, Yorkshire, UK)

Ustadh Imam Osman Sheikh

(Hospital Chaplain, Imam, Faith Advisor, My Family Group, UK)
Frequently asked questions
What if I am not able to attend LIVE sessions?
If, in any case, you miss attending LIVE session, you can catch up by watching the video recordings later at your convenient time. To get access to the video recordings, you should visit "myAlbalagh" by using your sign-in details. You can get access to "myAlbalagh" through your laptop, desktop or from your mobile.
When will I have access to the online course material?
Right after successful enrolment, you will get access to myAlbalagh which is our online learning portal where you can get access to the pre-course material. The course content will be released gradually after starting the course.
How to enrol in this course?
To Enrol in the course you need to visit our website course page and select Enrol Now