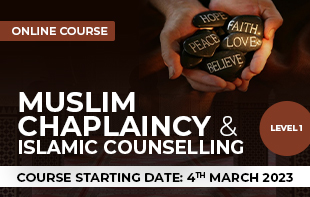 MUSLIM CHAPLAINCY AND ISLAMIC COUNSELLING – LEVEL 1
Enrollment in this course is by invitation only
About this course
The course provides students with an opportunity to learn, understand and acquire the set of skills that are required for the role of a chaplain. The course uses a practical, spiritual and psychological approach, focused on key features of Muslim chaplaincy, covering a range of subjects that come handy in one's career as a chaplain.
What you will learn
Gain theoretical knowledge and practical skills of Muslim chaplaincy and Islamic Counselling.
Be able to understand the core areas of Muslim chaplain and its application in various contexts such as Prison, Hospital, College and Mosque.
Be able to differentiate between the multiple concepts of conventional chaplaincy and Islamic chaplaincy and choose the best-suited method.
Be equipped with a clear insight of all facets of Muslim chaplaincy and Islamic spiritual care including, management of clients and cases, provision of effective spiritual care, plan and analyse.
Learn where and how a person would require specialist intervention and spiritual support.
Be able to work as a chaplain in Prisons, Hospitals, Education Institutions, Mosques and Community Centers.
Course Instructor
Ustadh Kaushar Tai

(Management and Training Consultant at Aksaa Ltd,UK)

Alyas Karmani

(Psychologist, Chair of Sharing Voices, Bradford, UK)

Professor Mike Gartland

(MSc. M.Ed. BA(Hons) Dip Psych. UKCP Head of Pastoral & Spiritual Care,UK)
Frequently asked questions
What if I am not able to attend LIVE sessions?
If, in any case, you miss attending LIVE session, you can catch up by watching the video recordings later at your convenient time. To get access to the video recordings, you should visit "myAlbalagh" by using your sign-in details. You can get access to "myAlbalagh" through your laptop, desktop or from your mobile.
When will I have access to the online course material?
Right after successful enrolment, you will get access to myAlbalagh which is our online learning portal where you can get access to the pre-course material. The course content will be released gradually after starting the course.
How to enrol in this course?
To Enrol in the course you need to visit our website course page and select Enrol Now