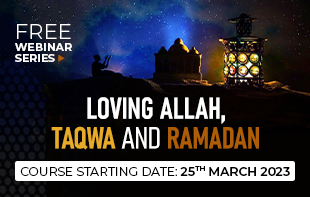 LOVING ALLAH, TAQWA AND RAMADAN
Enrollment in this course is by invitation only
About this course
Loving Allah, Taqwa, and Ramadan is a comprehensive lecture series that will include spiritually uplifting talks, interactive discussions, and dua by renowned Shari'a scholars. The live interactive online sessions will begin an hour before Iftar time (London, UK) on weekends and end with a heartfelt dua.

Ramadan is the time of year when Muslims have an opportunity to renew themselves spiritually and implement long-lasting improvements in their lives. This lecture series intends to prepare you for Ramadan and make the most of its blessings, both physically and spiritually.

Join this series to experience a spiritually transforming Ramadan and attain the closeness and love of Allah SWT in the blessed month of Ramadan.
Frequently asked questions
What if I am not able to attend LIVE sessions?
If, in any case, you miss attending LIVE session, you can catch up by watching the video recordings later at your convenient time. To get access to the video recordings, you should visit "myAlbalagh" by using your sign-in details. You can get access to "myAlbalagh" through your laptop, desktop or from your mobile.
When will I have access to the online course material?
Right after successful enrolment, you will get access to myAlbalagh which is our online learning portal where you can get access to the pre-course material. The course content will be released gradually after starting the course.
How to enrol in this course?
To Enrol in the course you need to visit our website course page and select Enrol Now