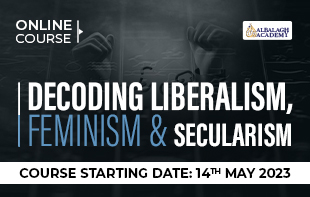 DECODING LIBERALISM, FEMINISM & SECULARISM
Enrollment in this course is by invitation only
About this course
This course will begin with the historical overview and fundamentals of dominating Western ideologies. It will focus on exploring contemporary Western ideologies, such as Liberalism, Feminism, and Secularism, in the light of Islam. Furthermore, the course will explore key challenges related to the compatibility of these beliefs with the Islamic framework of morality.

There will be discussions on a range of contemporary issues and challenges facing Islam and Muslims like the philosophy of liberalism, individualism, liberal morality, freedom of expression, liberal reformation of Islam, the future course of liberalism. The course will also analyse the rise of feminism among Muslims, gender justice and equality, women empowerment, secularism and democracy from an Islamic perspective, and Western myths and realities.

This course is suitable for academics, intellectuals, university students, and anyone interested in understanding the current socio-political system from the lens of Islam, helping you navigate life as a Muslim in contemporary society.
What you will learn
Understand the fundamentals and contemporary implications of Liberalism.
Its Impact on the woman in Western & Muslim societies
Differentiate between the moral framework of a Secular society with that of an Islamic society.
Learn about the uprise of feminism and its impact on the global Muslim diaspora
Know the misconceptions and misinterpretations of Islamic principles presented by Western media.
Navigate the current and future dynamics of Western ideologies from an Islamic perspective.
Frequently asked questions
What if I am not able to attend LIVE sessions?
If, in any case, you miss attending LIVE session, you can catch up by watching the video recordings later at your convenient time. To get access to the video recordings, you should visit "myAlbalagh" by using your sign-in details. You can get access to "myAlbalagh" through your laptop, desktop or from your mobile.
When will I have access to the online course material?
Right after successful enrolment, you will get access to myAlbalagh which is our online learning portal where you can get access to the pre-course material. The course content will be released gradually after starting the course.
How to enrol in this course?
To Enrol in the course you need to visit our website course page and select Enrol Now