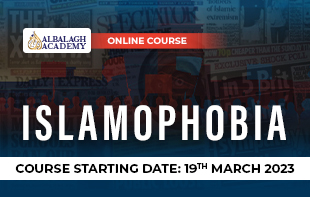 ISLAMOPHOBIA
Enrollment in this course is by invitation only
About this course
This course explores the discourses, politics and real-life case scenarios that led to the racialisation of Muslims throughout modernity. Topics will include colonialism and imperialism, the role of music, film, philosophy and the internet in the construction of otherness, the Olympics of suffering, and the responses different groups have had against their racialisation. This class will be of interest to students exploring religion, anthropology, philosophy, Latin American and Caribbean studies, European studies, Middle Eastern studies, history and comparative literature.

Anti-Muslim bigotry and racism have risen to epidemic proportions in the United States and Europe. Al Balagh Academy recognises the importance of equipping a broad array of religion scholars with the pedagogical knowledge, tools, and strategies to teach about, and against, anti-Muslim prejudice.
What you will learn
Analyze myths and misconceptions about Muslims
Understand the meaning of Islamophobia and its effects.
Create an anti-Islamophobia campaign to display in school.
Course Team
Ustadh Abdullah Al-Andalusi

International Muslim Thinker, Speaker and Debater, London, UK

Ustadh Hamza Andreas Tzortzis

Sapience Institute, UK

Dr Tabassum Hussain

Da'ee, Lecturer, Researcher, Debater, Youth Mentor, Toronto, Canada

Dr Rafaqat Rashid

Academic Director, Al Balagh Academy, UK

Shaykh Mohammed Amin Kholwadia

Founder, Darul Qasim, USA
Frequently asked questions
What if I am not able to attend LIVE sessions?
If, in any case, you miss attending LIVE session, you can catch up by watching the video recordings later at your convenient time. To get access to the video recordings, you should visit "myAlbalagh" by using your sign-in details. You can get access to "myAlbalagh" through your laptop, desktop or from your mobile.
When will I have access to the online course material?
Right after successful enrolment, you will get access to myAlbalagh which is our online learning portal where you can get access to the pre-course material. The course content will be released gradually after starting the course.
How to enrol in this course?
To Enrol in the course you need to visit our website course page and select Enrol Now