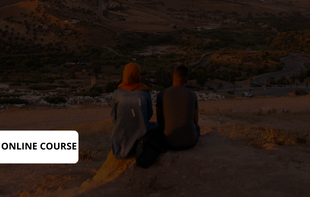 ISLAMIC GUIDE TO A SUCCESSFUL MARRIAGE
Enrollment in this course is by invitation only
About this course
A good marriage is the foundation of any family structure. If a marriage is healthy, then there is some assurance that such a family will cope better with the many challenges that society throws. Children will be happier and more able, there will be a happy and loving environment that will grow a healthy culture for all. Most importantly, a good marriage makes a good family, which is what makes a good society.
Al Balagh Academy is offering an exclusive online course on Islamic Guide to a Successful Marriage to explore contemporary issues related to marriage from an Islamic perspective. Healthy Muslim Marriage The course will present the Islamic, Fiqhi and psychological perspectives on healthy married relationships and the tested and effective tools suggested by relationship experts in the light of contemporary studies.
What you will learn
Analyse the dynamics in maintaining a healthy Muslim marriage.
Learn how to develop your relationship withstanding all the challenges of society.
Examine how to sustain love and spirituality with your partner.
Offer anecdotal experiences along with cultural discussions and the necessary Islamic legal explanation.
Provide real-life case scenarios to make it relatable, especially in the West.
Suggest practical solutions to the multiple emotional and mental challenges arising in any marriage.
Course Instructor
Professor Dr. G. Hussein Rassool

(Director of Studies, Department of Islamic Psychology, Psychotherapy & Counselling)

Dr. Hasan Awan

(MD. Islamic Society of Baltimore Health Clinic and Private Practice, Internal Medicine)

Mufti Abdur-Rahman Mangera

(Whitethread Institute, London, UK)

Shaykh Mustaqeem Shah

(Lecturer, Al Balagh Academy, UK)

Mufti Muhammed Ibn Adam

(Darul Iftaa, Leicester, UK)
Frequently asked questions
What if I am not able to attend LIVE sessions?
If, in any case, you miss attending LIVE session, you can catch up by watching the video recordings later at your convenient time. To get access to the video recordings, you should visit "myAlbalagh" by using your sign-in details. You can get access to "myAlbalagh" through your laptop, desktop or from your mobile.
When will I have access to the online course material?
Right after successful enrolment, you will get access to myAlbalagh which is our online learning portal where you can get access to the pre-course material. The course content will be released gradually after starting the course.
How to enrol in this course?
To Enrol in the course you need to visit our website course page and select Enrol Now