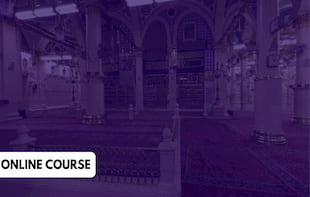 DIPLOMA IN ESSENTIAL ISLAMIC SCIENCES
Enrollment in this course is by invitation only
About this course
Essential Islamic Sciences Diploma Programme is designed specifically and exclusively for professionals, university students, graduates, those in professional academic roles and anyone interested in understanding the fundamental rulings of Islam that every Muslim is obliged to follow. The purpose is to bridge the current gap that exists between traditional Muslim scholars and contemporary academics and professionals, as well as the gap that exists between classical Islamic sciences and contemporary academic studies and scientific research.

This programme is completely online and is part-time, divided into four academic levels covering 15 essential traditional Islamic sciences from beginning to intermediate level. The course is unique in the sense that it will incorporate relevant contemporary Islamic literature coupled with relevant contemporary academic social, historical philosophical and scientific studies. The course will be delivered using a personal developmental, unique skills-focused approach which will be guided through one-to-one mentorship.
What you will learn
Foundational understanding of classical Islamic Text.
Foundational Knowledge in Contemporary Sciences and Islamic literature.
Research, Analytical Skills and the Application of Islamic tradition to Conventional and Contemporary Issues.
Personal, Professional Spiritual and Academic Skills Development.
Future leadership in the Islamic tradition.
Networking, Career Guidance and Internship
Course Instructor
Shaykh Abdurraheem Ibn Dawood Limbada

(Senior Lecturer, Tafseer Raheemi, UK)

Dr. Mohammed Basil Altaie

( Professor of Quantum Cosmology, Yarmouk University, Jordan)
Frequently asked questions
What if I am not able to attend LIVE sessions?
If, in any case, you miss attending LIVE session, you can catch up by watching the video recordings later at your convenient time. To get access to the video recordings, you should visit "myAlbalagh" by using your sign-in details. You can get access to "myAlbalagh" through your laptop, desktop or from your mobile.
When will I have access to the online course material?
Right after successful enrolment, you will get access to myAlbalagh which is our online learning portal where you can get access to the pre-course material. The course content will be released gradually after starting the course.
How to enrol in this course?
To Enrol in the course you need to visit our website course page and select Enrol Now