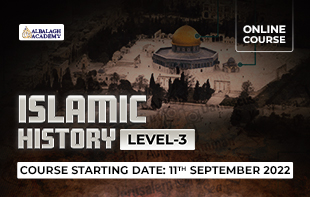 ISLAMIC HISTORY LEVEL-3
About this course
To Enrol with pay in installment please visit the website course page
Al Balagh Academy is offering this advanced course on Islamic history from the era of Empires in World History until today (Period: 1500- Present).

It will cover the Empires in World History, China and Rome, Empires of Christianity and Islam, Ottomans, Sulayman Qanuni, Safavids, Mughals , The Wahhabi Movement. It will further provide an in-depth study on the Birth of the Nation State, Colonialism and Law and the anti-colonial intellectual and political responses of new nation-states.

This course provides an exceptional opportunity for students of intermediary knowledge to develop and upgrade the understanding of Islamic History and its contemporary implications in today's world.
What you will learn
Identify the major events, trends, and figures in Islamic history.
Become familiar with the key primary sources, both traditional and modern academic, on pre modern Islamic history.
Relate contemporary problems to historical parallels and draw lessons.
Prepare and teach surveys of Islamic history on their own.
Find stronger foundations for their faith as well as reasoning in and about the contemporary world.
Course Instructor
Ustadh Ovamir G.Anjum

Professor, University of Toledo, USA
Frequently asked questions
What if I am not able to attend LIVE sessions?
If, in any case, you miss attending LIVE session, you can catch up by watching the video recordings later at your convenient time. To get access to the video recordings, you should visit "myAlbalagh" by using your sign-in details. You can get access to "myAlbalagh" through your laptop, desktop or from your mobile.
When will I have access to the online course material?
Right after successful enrolment, you will get access to myAlbalagh which is our online learning portal where you can get access to the pre-course material. The course content will be released gradually after starting the course.
How to enrol in this course?
To Enrol in the course you need to visit our website course page and select Enrol Now