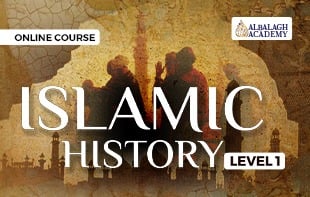 ISLAMIC HISTORY LEVEL-1
Enrollment in this course is by invitation only
About this course
Al Balagh Academy is offering this extensive course on The Islamic Golden Age that will cover the expansion of Islam, the rise of the Umayyads; the Abbasid empire and successor states; the emergence of classical Islamic societies and material culture (including architecture, arts, literature); the Crusades and Mongol invasions and Muslim societies' response.
What you will learn
Reflect on key events that shaped Islamic history in early centuries.
Learn about the different empires and their movements, development and evolution into different caliphates right up to the Ottoman times.
Analyse the cultural exchange and relationships both political and social between Muslims and other civilisations.
Learn lessons regarding the different reactions, approaches of early Muslims to increasing European dominance.
Course Team
Ustadh Ovamir G.Anjum

Al Balagh Academy, UK
Frequently asked questions
What if I am not able to attend LIVE sessions?
If, in any case, you miss attending LIVE session, you can catch up by watching the video recordings later at your convenient time. To get access to the video recordings, you should visit "myAlbalagh" by using your sign-in details. You can get access to "myAlbalagh" through your laptop, desktop or from your mobile.
When will I have access to the online course material?
Right after successful enrolment, you will get access to myAlbalagh which is our online learning portal where you can get access to the pre-course material. The course content will be released gradually after starting the course.
How to enrol in this course?
To Enrol in the course you need to visit our website course page and select Enrol Now