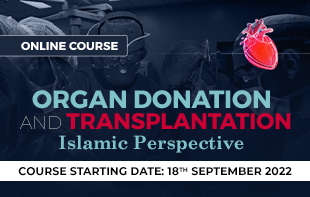 ORGAN DONATION AND TRANSPLANTATION: ISLAMIC PERSPECTIVE
About this course
To Enrol with pay in installment please visit the website course page
Al Balagh Academy is offering a unique course on Organ Donation and Transplantation from an Islamic perspective. The course aims to develop your knowledge, skills and confidence to care for Muslim patients who are in need of organs and their families, as well as how to engage with Muslims, their families and communities on the issue of organ donation.

Three out 10 patients across the UK waiting for an organ transplant are from black, Asian and minority ethnic communities, which include majority of the Muslim community and similar figures are reflected around the world. Yet, Muslim communities hold more negative attitudes towards organ donation than other communities? What are the underlying reasons? The issue of organ donation in Islam has been debated for decades, with most religious authorities sanctioning both living-organ and deceased-organ donation. However, disquiet among the Islamic community on the compatibility of organ donation with their faith remains, especially in relation to deceased-organ donation. This remains a topical, controversial, and challenging component of organ procurement at both local and international levels.

This course has been designed for Muslim health professionals and chaplains who want answers to their faith-based queries related to organ donation and transplantation. It is designed to educate and explore common issues relevant for both allied health professionals who work in the field organ donation and transplantation as well as Muslim shari'ah scholars who want to gain a deep insight into associated challenges and their potential solutions.
What you will learn
Understand the Islamic principles and ethico-legal views related to organ donation and transplantation.
Deal confidently with common situations faced by Muslim practitioners, patients and their families related to donating organs and transplantation.
Effectively evaluate the critical, and controversial issues arising from organ donation programmes and organ transplantation processes and develop solutions.
Engage effectively with donors and their families as well as Muslim organ recipients.
Deliver effective awareness workshops in Mosques and Muslim communities.
Course Team
Dr Rafaqat Rashid

(Academic Director, Al Balagh Academy, UK)

Professor Gurch Randhawa

(Professor of Diversity in Public Health, Institute for Health Research, University of Bedfordshire, UK)

Shaykh Dr Mansur Ali

(Lecturer in Islamic Studies, Cardiff University, UK)

Dr Sahira Dar

(GP and senior advisor of BIMA Blood and Organ Donation, UK)

Dr Usman Khalid

(Cardiff and Vale University Health Board | UHW · Department of Nephrology and Transplant Surgery BSc(Hons) MBBS MRCS FHEA PhD FRCS)

Dr Shafi Malik

(FRCP, Consultant Transplant Nephrologist, University Hospitals of Coventry and Warwickshire)
Frequently asked questions
What if I am not able to attend LIVE sessions?
If, in any case, you miss attending LIVE session, you can catch up by watching the video recordings later at your convenient time. To get access to the video recordings, you should visit "myAlbalagh" by using your sign-in details. You can get access to "myAlbalagh" through your laptop, desktop or from your mobile.
When will I have access to the online course material?
Right after successful enrolment, you will get access to myAlbalagh which is our online learning portal where you can get access to the pre-course material. The course content will be released gradually after starting the course.
How to enrol in this course?
To Enrol in the course you need to visit our website course page and select Enrol Now