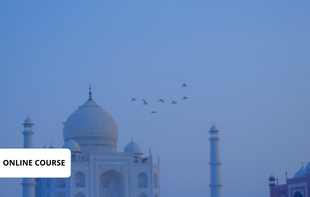 IMAM AL-GHAZALI LIFE, WORK AND LESSONS
Enrollment in this course is by invitation only
About this course
This course will present the life and works of Imam al-Ghazali relating his major influences on current thinking on theory of knowledge, spirituality, politics, education, philosophy, psychology and science. The purpose is to acquaint students with these classical and traditional models of thinking and to drive motivation and the passion of learning, writing, and thinking in the ummah. Imam al-Ghazali was a true role model whose works have influenced great Muslim and non-Muslim thinkers even in the post-modern age. Students will learn about al-Ghazali's main influencers, reasons for his success and how we can continue the legacy of a man who gave so much to the Muslim world and for generations in the future.

A total of about 70 works can be attributed to Al-Ghazali. His 11th century book titled The Incoherence of the Philosophers marks a major turn in Islamic epistemology. The Incoherence also marked a turning point in Islamic philosophy in its vehement rejections of Aristotle and Plato. The autobiography al-Ghazali wrote towards the end of his life, Deliverance From Error, is considered a work of major importance. In it, al-Ghazali recounts how, once a crisis of epistemological skepticism had been resolved by "a light which God Most High cast into my breast … the key to most knowledge".
What you will learn
Explore the life and works of Imam al-Ghazali.
Study about his contribution to many of the current modern sciences.
Discuss what motivated him and how we can imbibe these qualities in us.
Learn how we can continue his legacy with similar role models for our future generations.
Course Instructor
Dr. Shoaib Ahmed Malik

(Assistant Professor of Natural Sciences, Zayed University, Dubai)

Shaykh Haroon Sidat

(Research Associate, Cardiff University, UK)

Dr Rafaqat Rashid

(Academic Director, Al Balagh Academy, UK)

Shaykh Amin Kholwadia

DARUL QASIM CHICAGO, USA
Frequently asked questions
What if I am not able to attend LIVE sessions?
If, in any case, you miss attending LIVE session, you can catch up by watching the video recordings later at your convenient time. To get access to the video recordings, you should visit "myAlbalagh" by using your sign-in details. You can get access to "myAlbalagh" through your laptop, desktop or from your mobile.
When will I have access to the online course material?
Right after successful enrolment, you will get access to myAlbalagh which is our online learning portal where you can get access to the pre-course material. The course content will be released gradually after starting the course.
How to enrol in this course?
To Enrol in the course you need to visit our website course page and select Enrol Now