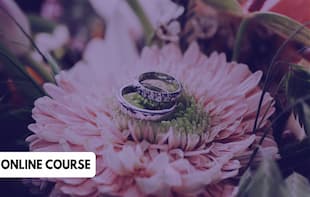 ISLAMIC MARRIAGE COUNSELLING
Enrollment in this course is by invitation only
About this course
As part of their role, imams, health, and social care workers are getting more involved in marital counselling. However, few of these workers have professional training in counselling and psychotherapy. Marriage counselling is considered part of the short-term care that Imams, health, and social care workers need to provide. Although the course is designed for the above professionals, it will also be beneficial for Muslims that are considering getting married.
Islamic Marriage Counselling online course provides an exclusive opportunity for practicing psychologists, psychiatrists, therapists, trained counsellors, and anyone interested in developing a fundamental understanding of Marriage Counselling from an Islamic perspective as an add-on qualification.
What you will learn
Recognise the skills needed in the counselling process.
Identify the key issues in a relationship and marital relationships.
Learn the associated problems related to the relationship breakdown.
Identify some of the problems related to marital counselling.
Describe the strategies in developing skills in couples to navigate their way through marriage successfully.
Course Instructor
Professor Dr. G. Hussein Rassool

(Director of Studies, Department of Islamic Psychology, Psychotherapy & Counselling)

Dr. Hasan Awan

(MD. Islamic Society of Baltimore Health Clinic and Private Practice, Internal Medicine)
Frequently asked questions
What if I am not able to attend LIVE sessions?
If, in any case, you miss attending LIVE session, you can catch up by watching the video recordings later at your convenient time. To get access to the video recordings, you should visit "myAlbalagh" by using your sign-in details. You can get access to "myAlbalagh" through your laptop, desktop or from your mobile.
When will I have access to the online course material?
Right after successful enrolment, you will get access to myAlbalagh which is our online learning portal where you can get access to the pre-course material. The course content will be released gradually after starting the course.
How to enrol in this course?
To Enrol in the course you need to visit our website course page and select Enrol Now