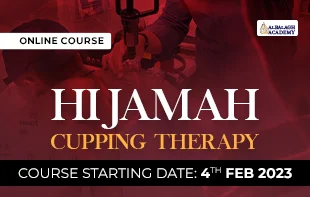 HIJAMAH-CUPPING THERAPY
Enrollment in this course is by invitation only
About this course
The Course on ilaj bil hijamah (cupping therapy) is an introductory course for the hijamah therapy. It will provide an opportunity for the students to learn the basic knowledge of Hijamah and its application in various diseases. It will also provide the information on the use of Hijamah on preventive as well as curative aspects of the diseases.

The course will also make the participants well acquainted with the therapeutic relevance and utility of Hijamah especially in the management of life style disorders, Non-communicable diseases (NCDs) etc. Since this therapy provides the treatment without medicines or (least medicines) its importance is increased manyfolds especially in context with the side effects/ toxic effects of the drugs in western/ modern medicine.
What you will learn
Able to have a better understanding about the fundamentals of Unani medicine.
Acquainted with the knowledge of hijamah, and the therapeutic and preventive indications in various disease conditions.
Equipped with the application, methods and precautions of the Hijamah.
Able to have a bird-view not only of the therapeutics but also the research studies which have been conducted in various institutions.
Course Team
Professor Syed Shakir Jamil

School of Unani Medicine, Jamia Hamdard and Former DG, CCRUM

Professor Kunwar Mohammad Yousuf Amin

Professor, Pharmacology, Aligarh Muslim University

Dr Naushad Ali Rana

School of Unani Medicine, Jamia Hamdard and Former DG, CCRUM
Frequently asked questions
What if I am not able to attend LIVE sessions?
If, in any case, you miss attending LIVE session, you can catch up by watching the video recordings later at your convenient time. To get access to the video recordings, you should visit "myAlbalagh" by using your sign-in details. You can get access to "myAlbalagh" through your laptop, desktop or from your mobile.
When will I have access to the online course material?
Right after successful enrolment, you will get access to myAlbalagh which is our online learning portal where you can get access to the pre-course material. The course content will be released gradually after starting the course.
How to enrol in this course?
To Enrol in the course you need to visit our website course page and select Enrol Now