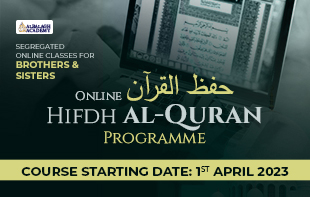 HIFDH AL-QUR'AN(Intensive)
Enrollment in this course is by invitation only
About this course
Al Balagh online Hifdh al-Qur'an, based on traditional hardoi method, introduced by Shah Abrarul Haq Hardoi RA is exclusively designed for busy professionals, university students, graduates, homemakers and working sisters to help them complete the memorisation of the holy Quran from the comfort of their homes without compromising on any of personal and professional commitments.

This programme will focus on helping the students memorise the entire Holy Qur'an in a systematic manner with high accuracy and clarity of Tajwid under the guidance of experienced and qualified teachers. Our traditional Hardoi method along with modern techniques of memorisation and a systematic approach to regular revision makes Quran memorisation a lot easier than attempting this great endeavour alone.

All of our teachers have an Ijazah from traditional madaris providing you with the full focus that is required to complete the hifdh al Quran. The class size will be as small as 15 students, thereby enabling complete attention to each student.

This online programme is suitable for 16+ dedicated students to help memorise the entire Quran through a step-by-step approach. It is a structured programme that adopts a tested Hardoi method for reviewing and memorising each lesson under the guidance of your teacher.
What you will learn
Complete the memorisation of everything from their syllabus.
Know the techniques of reviewing what you learn.
Frequently asked questions
What if I am not able to attend LIVE sessions?
No video recordings will be available for Hifdh practice classes. However, the recordings for theory based lessons will be available. you can catch up by watching the video recordings later at your convenient time. To get access to the video recordings, you should visit "myAlbalagh" by using your sign-in details. You can get access to "myAlbalagh" through your laptop, desktop or from your mobile.
What is the age eligibility for Hifdh class?
Students must be 16+ to any age.
Does this course have any prerequisite?
The online Hifdh classes requires students to know how to recite Quran with Tajwid fluently.
When will I have access to the online course material?
Right after successful enrolment, you will get access to myAlbalagh which is our online learning portal where you can get access to the pre-course material. The course content will be released gradually after starting the course.
How to enrol in this course?
To Enrol in the course you need to visit our website course page and select Enrol Now