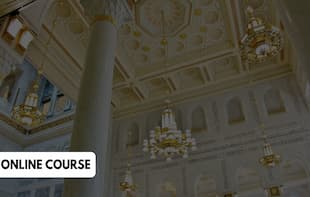 THE GREAT PROPHETS : ISLAM, HISTORY AND SCIENCE
Enrollment in this course is by invitation only
About this course
This course offers a popular-level introduction to the history of the prophets whose stories are narrated in the Qur'an. This unique course will be examining the Qur'anic stories of the prophets (qiṣaṣ al-anbiyā) in light of modern scientific knowledge as well as in comparison and contrast to the historical versions of these stories.

This course will cover stories of Adam, Noah, Abraham, Joseph, Hud, Saleh, Moses, David, Solomon, Shu'ayb, Zechariah & John and Jesus عليه السلام from Qur'an, History and the modern scientific narratives. It will present the comparative analysis of these stories from different lenses and eventually the truth in all of them.

This course is suitable for everyone who is interested in academically studying the stories of Prophets mentioned in the Qur'an and its different narratives.
What you will learn
Provide a general understanding of the stories of the Prophets in the Qur'an.
Compare the Qur'anic narrative with modern historical knowledge.
Differentiate the Qur'anic narrative with the other versions of their stories.
Analyse the Qur'anic narrative from a scientific perspective.
Course Instructor
Ustadh Sharif Randhawa

(Bayyinah Institute & the Centre for the Advanced Study of the Quran and its Interpretation)
Frequently asked questions
What if I am not able to attend LIVE sessions?
If, in any case, you miss attending LIVE session, you can catch up by watching the video recordings later at your convenient time. To get access to the video recordings, you should visit "myAlbalagh" by using your sign-in details. You can get access to "myAlbalagh" through your laptop, desktop or from your mobile.
When will I have access to the online course material?
Right after successful enrolment, you will get access to myAlbalagh which is our online learning portal where you can get access to the pre-course material. The course content will be released gradually after starting the course.
How to enrol in this course?
To Enrol in the course you need to visit our website course page and select Enrol Now