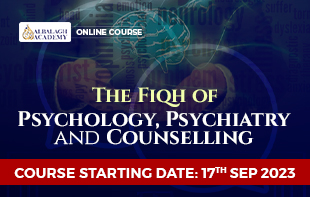 THE FIQH OF PSYCHOLOGY, PSYCHIATRY, AND COUNSELLING
Enrollment in this course is by invitation only
Kindly, visit our WEBSITE for Enrollment
About this course
Delve into the depths of Islamic rulings with Al Balagh's pioneering online course: The Fiqh of Psychology, Psychiatry, and Counselling. Embark on a journey through 16 live interactive sessions, uncover over 50 key principles, and decode more than 150 Islamic rulings and Fatawa. Engage with 50+ real-world case studies and gain practical insights into the intersection of Islamic Fiqh and mental health. Explore the Fiqh of Depression, Anxiety, Bipolar Disorder, PTSD, Personality Disorders, and more. This course is meticulously designed for those passionate about Islamic psychology and seeking an in-depth understanding of Islamic rulings related to mental health disorders.
What you will learn
Acquire comprehensive knowledge of over 50 key principles and more than 150 Islamic rulings and Fatawa related to Psychology, Psychiatry, and Counselling.
Develop the ability to apply Islamic rulings in real-world scenarios related to mental health.
Gain practical insights through engaging with over 50 real-world case studies.
Enhance your understanding and skills in guiding individuals suffering from psychological disorders from an Islamic perspective.
Be equipped with the knowledge and skills to contribute positively to the field of Islamic psychology and counselling.
Course Instructor
Dr Rafaqat Rashid

(Academic Director, Al Balagh Academy, UK)
Frequently asked questions
What if I am not able to attend LIVE sessions?
If, in any case, you miss attending LIVE session, you can catch up by watching the video recordings later at your convenient time. To get access to the video recordings, you should visit "myAlbalagh" by using your sign-in details. You can get access to "myAlbalagh" through your laptop, desktop or from your mobile.
Are Al Balagh courses recognised or accredited?
Al Balagh Islamic Psychology and Counselling – Level 1 is an externally accredited by CPD.
When will I have access to the online course material?
Right after successful enrolment, you will get access to myAlbalagh which is our online learning portal where you can get access to the pre-course material. The course content will be released gradually after starting the course.
How to enrol in this course?
To Enrol in the course you need to visit our website course page and select Enrol Now