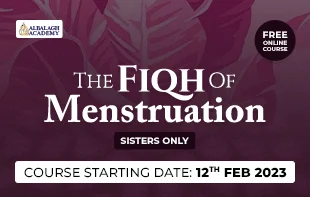 FIQH OF MENSTRUATION
Enrollment in this course is by invitation only
About this course
We can safely say that the jurisprudential rulings related to menstruation have left many amongst us confused, at the brink of tears and utterly lost. The rules of Menstruation are meticulous and numerous, yet surprisingly comprehendible if taught in a procedural and gradual manner.

This course being Level 1 of a multi-leveled collection of courses, will not only introduce the central and indispensable rulings related to menstruation, it will also help us learn how to practice them. It will neither be over-simplified nor extremely complicated. Based on 6 live -sessions, each class will cater to the core rulings surrounding menstruation, post-natal bleeding, uterine dysfunctional bleeding and more. With the use of visual aids and post-class activities, essential concepts of feminine purity will be understandable without the tears and struggle, Insha'Allah.


What you will learn
Gain in-depth and practically oriented knowledge of the rulings associated with: :
Menstruation
Post-natal bleeding
Uterine Dysfunctional bleeding
The prohibited and permissible acts associated with the different forms of blood and states of purity.
Have a strong understanding of the various terminologies, definitions and varied scenarios parallel with the changes in rulings associated with feminine purity
Course Team
Ustadha Zarmina

(Lecturer, Al Balagh Academy, UK)

Ustadha Mehmudah

(Lecturer, Al Balagh Academy, UK)

Ustadha Raeesa

(Lecturer, Al Balagh Academy, UK)
Frequently asked questions
What if I am not able to attend LIVE sessions?
If, in any case, you miss attending LIVE session, you can catch up by watching the video recordings later at your convenient time. To get access to the video recordings, you should visit "myAlbalagh" by using your sign-in details. You can get access to "myAlbalagh" through your laptop, desktop or from your mobile.
When will I have access to the online course material?
Right after successful enrolment, you will get access to myAlbalagh which is our online learning portal where you can get access to the pre-course material. The course content will be released gradually after starting the course.
How to enrol in this course?
To Enrol in the course you need to visit our website course page and select Enrol Now