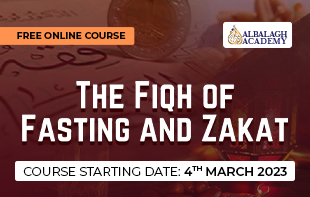 THE FIQH OF FASTING AND ZAKAT
Enrollment in this course is by invitation only
About this course
The holy month of Ramadan is only a few weeks away, and the blessed time will soon be upon us. Every year we should aspire to learn and practice our deen better than last year. Ramadan is undoubtedly more than just a blessed month, and it is an opportunity to spiritually transform yourself and the route to success in this world and the hereafter. It is not only recommended but highly essential for every Muslim to be aware of the Islamic rulings (Fiqh) and the spiritual channels that we can use to achieve the most out of this blessed month.

Al Balagh Academy offers this free course for beginners to impart wisdom behind Fasting (Sawm) and Zakat and its essential rulings. This course will focus on the classical and contemporary Islamic rulings related to the jurisprudence of Fasting and Zakat. The course will cover essential subjects like e Mysteries of Fasting by Imam Ghazali, Key Islamic Rulings of Fasting, Medical Fiqh of Fasting, Zakat – Key Principles & Key Conditions, Calculating Zakat, Zakat on Businesses, Eligible for Zakat – Classical Rulings and Contemporary Rulings and much more.

The course is based on al Fiqh al-Muyassar, one of the famous and authentic books of fiqh in the contemporary world. You will explore the wisdom and the various Islamic narrations related to obligatory fasting and Zakat. Studying how these rulings affect your spirituality, secrets to the art of giving and the practical, contemporary tips that deal with the most common Fasting and Zakat problems will help you reap the most out of this holy month of Ramadan.
Course Instructor
Mufti Amjad Muhammed

Sharīʿa consultant, Wifaqul ulama, UK

Mufti Faraz Adam

Executive Director, Amanah Advisors, UK

Mufti Abdul Waheed

Researcher & Lecturer in Fiqh, JKN Fatawa Dept & marriage counsellor
Frequently asked questions
What if I am not able to attend LIVE sessions?
If, in any case, you miss attending LIVE session, you can catch up by watching the video recordings later at your convenient time. To get access to the video recordings, you should visit "myAlbalagh" by using your sign-in details. You can get access to "myAlbalagh" through your laptop, desktop or from your mobile.
When will I have access to the online course material?
Right after successful enrolment, you will get access to myAlbalagh which is our online learning portal where you can get access to the pre-course material. The course content will be released gradually after starting the course.
How to enrol in this course?
To Enrol in the course you need to visit our website course page and select Enrol Now