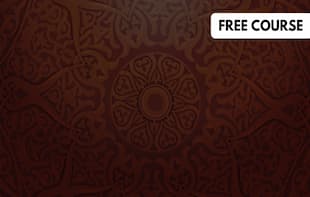 THE AHADITH OF MEDICINE
Enrollment in this course is by invitation only
About this course
The course provides an in-depth conceptual introduction to prophetic traditions related to the subject of medicine. The chosen text is from the Chapter of Medicine from Sahih al-Bukhari (صحيح البخاري), one of the Kutub al-Sittah (six major hadith collections). These prophetic traditions, ahadith, were collected by the great Muslim hadith scholar Muhammad ibn Isma`il al-Bukhari (ra), after being transmitted orally for generations. This collection of ahadith is considered the most authentic book after the Holy Quran.
The course aims to provide both theory and case-based practical advice on some of the most interesting and common medical issues for Muslims from the most authentic book after the Holy Quran. It addresses some fundamental questions affecting health care and allied professionals today.
The course covers most of the fundamental aspects of prophetic traditions related to the subject of Medicine and relates to contemporary issues. There are 14 live sessions delivered over 3 months. The live online interactive sessions are delivered on Sundays for up to 1.5 to 2 hours. The whole course is taken online and offers a flexible way to study while maintaining work and personal commitments.
What you will learn
Gain knowledge and practical understanding of hadith literature related to the subject of medicine to become better informed
Understand the different Islamic views relating to the field of medicine as stated in hadith literature and relate to modern context.
Advise and inform patients and doctors about Islamic rulings relating to contemporary medical issues as stated in hadith literature.
Course Instructor
Dr Rafaqat Rashid

Mufti Mohammad Ibn Adam al-Kawthari

Dr. Mufti Abdur-Rahman Mangera
Mufti Abdur Raheem Ibn Dawood Limbada

Mufti Muhammad Wasie Butt

Mufti Syed Waliullah Abrar Qasmi
Frequently asked questions
How is this online course structured?
Our online course comprises of pre- recorded videos, online course material that include, presentations, reading material & online learning activities. The learners can ask questions and get their doubts cleared if any. You can get support from our dedicated academic support team during live sessions and even after it, as needed.
How long will I have access to the online course?
You will have access to the online course content for up to 2 years. If you want lifetime access, contact our admin team via Email at admin@albalaghacademy.com.
How to enrol in this course?
To Enrol in the course you need to visit our website course page and select Enrol Now