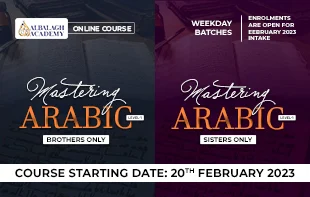 MASTERING ARABIC LEVEL-1
Enrollment in this course is by invitation only
About this course
This is an excellent opportunity for you to learn Arabic online delivered by an institute that specialises in providing online courses. The course has been divided into four levels. Each level comprises one semester (6 Months). Mastering Arabic Course will focus on improving the four essential skills of language learning; namely reading, writing, speaking and listening. Students will learn the Arabic language under the instruction of experienced Muslim scholars and language experts from the comfort of their home. Online learning activities will help improve their Arabic language skills quickly for students. Arabic is a rich language with great heritage in the fields of literature, theology and many sciences. The ability to speak, write and read this language fluently will allow you to understand the basics of the magnificent Qurān and few other traditional texts. This course will start your Arabic learning journey with basics in an engaging manner, getting you one big step closer to understanding one of the most popular languages in world history.
What you will learn
Understand the foundational rules of grammar and syntax (nahw and sarf).
Be able to read various types of classical Arabic literature.
Learn how to combine various grammatical concepts, words and sentences to form speech.
Write basic sentences and paragraphs in classical Arabic
Gain the ability to understand the basics of the Qur'anic text.
Initiate social interactions, ask for information, and be aware of basic cultural aspects of social interaction in the Arab world.
Course Team
Shaykh Mustaqeem Shah

Lecturer, Al Balagh Academy, UK

Dr. Ahmad Hammad Assanie

Head of the Arabic language department, KSA

Shaykh Abdul Rahman Cader

Lecturer,Al Balagh Academy, UK

Ustadha Fatima Mesmeh

Palestinian, Native Arabic Teacher, Cape Town, SA

Ustadha Hafsa Zadran

Graduate in Islamic theology, Abu Bakr trust & Masters in religions, society and Education, University of Warwick. UK
Frequently asked questions
What if I am not able to attend LIVE sessions?
If, in any case, you miss attending LIVE session, you can catch up by watching the video recordings later at your convenient time. To get access to the video recordings, you should visit "myAlbalagh" by using your sign-in details. You can get access to "myAlbalagh" through your laptop, desktop or from your mobile.
When will I have access to the online course material?
Right after successful enrolment, you will get access to myAlbalagh which is our online learning portal where you can get access to the pre-course material. The course content will be released gradually after starting the course.
How to enrol in this course?
To Enrol in the course you need to visit our website course page and select Enrol Now