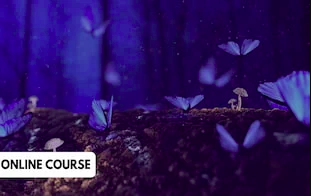 THE ART OF DREAM INTERPRETATION IN ISLAM
Enrollment in this course is by invitation only
About this course
This course will explore the Islamic science of interpretation of dreams (ta'bir al-ru'ya) based on the famous classical text, "Dictionary of Dreams" by the renowned tabi'i, dream interpreter of Islam, Muhammad Ibn Sirin. Islamic dream interpretations are mainly sourced from his works. This course will guide you through this famous manual and dictionary of concepts related to dreams and their meanings. Though the course looks at dreams and their significance from an Islamic point of view, it will also provide a practical, realistic and authentic overview of the art and its limits.

First of its kind; the Islamic Art of Interpretation of Dreams, online course, provides guidelines for both the dream interpreter and the person who relates his / her dreams to the experts of knowledge. This unique course will teach you the art of dream interpretations by contraposition, interpretation by correlation, and approximation. It will also cover explanations of rare dreams that impacted human history, including the dreams of Allah's prophets, upon all of them be peace and blessings, and the interpretations of rare and unique dreams given by masters of this unique art.

This course is suitable for all interested Muslims, especially those who wish to relate dreams seriously as an essential aspect of their life, faith, and psychological state. It will be beneficial to students of cultural sciences and spirituality, but above all to the seekers of truth through authentic sources.
What you will learn
Know about the life Ibn Sirin and his authority in dream interpretation
Identify the key attributes of a dream interpreter
Acknowledge the Islamic fiqh rulings on dream interpretation
Realise the art of relating one's dream and the art of receiving someone's dream
Assess dreams using proper names, context and traditions
Understand Interpretation by Contraposition and Correlation
Frequently asked questions
What if I am not able to attend LIVE sessions?
If, in any case, you miss attending LIVE session, you can catch up by watching the video recordings later at your convenient time. To get access to the video recordings, you should visit "myAlbalagh" by using your sign-in details. You can get access to "myAlbalagh" through your laptop, desktop or from your mobile.
When will I have access to the online course material?
Right after successful enrolment, you will get access to myAlbalagh which is our online learning portal where you can get access to the pre-course material. The course content will be released gradually after starting the course.
How to enrol in this course?
To Enrol in the course you need to visit our website course page and select Enrol Now